However beautiful the strategy, you should occasionally look at the results.Winston Churchill

The customer experience as a differentiation driver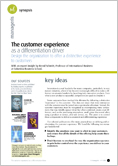 The customer experience involves much more than simply using the product. How to set up an organization able to offer a distinctive experience to customers?
subscribers, sign in to download the synopsis
---

Innovation is a real headache for many companies, particularly in very mature industries, where it has become increasingly difficult to make a difference on saturated markets by launching truly innovative products. Even when a new product is successful, competitors are quick to emulate it.

Some companies have resolved this dilemma by delivering a distinctive "experience" to the customer. This does not mean that every interaction with the customer must be turned into a spectacular adventure. Instead, the customer experience must be recognized as encompassing many components that may initially appear trivial, but when combined, create a real difference, such as the purchasing atmosphere, small extras discovered when using a product or service, after-sale service, etc. The point is to control these components to deliver a consistent and differentiating experience.

Our selected publications offer many practical tips on defining and orchestrating the customer experience. We found the following two messages fundamental:

– Identify the emotions you want to elicit in your customers, and ensure that all the details of the offering help create these feelings.

– Don't hesitate to overhaul the way the organization operates to gain better control over the experience you deliver to your customers.
Synopsis n.133b
---
subscribers, sign in to download the synopsis