We help businesses improve managerial behaviors

We've helped more than thirty multinationals mobilize their managers on the desired behaviors required to meet strategic challenges. Our digital solutions promote the values, behaviors and desired culture unique to each organization. Our professional services team works with customers to deploy solutions tailored to the specific requirements of each organization.
The On-the-job Learning® approach
It's by experimenting with new approaches to problems encountered on-the-job that Managers really learn. Our digital solutions, in stand-alone or SAAS mode, provide an effective learning approach that leverage just-in-time learning. Our On-the-job Learning™ solutions empower each Manager, at any time, to take a step back and to examine the business challenges they face and benefit from a wide collection of online resources and concrete practical tips.
Our On-the-job Learning™ solutions complement your current tool kit of delivery methods: e.g. communication collaterals, on-site training events or e-learning. Our online solutions provide the impulse, reinforcement and momentum for Managers to experiment with new ways of doing and put desired behaviors into practice on the ground.
Dual expertise in HR communication and deep knowledge of the challenges facing leaders
Managers play a critical role in the success of a strategy, as long as they take ownership of the strategic orientation and know how to move from strategy to action!
Our dual expertise enables us to get managers to see that their behaviors are essential to the materialization of a strategy. We know how to formulate practical advice, to make it concrete and relevant so that Managers are encouraged to master these behaviors and use these insights to improve their own performance.
Cost-effective tailor-made solutions
We know that each organization has unique ambitions and priorities. We work closely with our customers to develop a thorough understanding of the key requirements. This exchange helps us to create effective messages and practical advice that are operationally relevant and meaningful to Managers.
Our online solutions also leverage a rich content database of briefs and articles. The KnowledgeBase assembles insights resulting from the systematic monitoring of leading international publications on management for nearly 20 years, carried out by our editorial specialists each month. These content bricks help us develop customized and cost-effective solutions.
Depending on your needs, we can either deliver turnkey digital solutions developed, managed and hosted by us, or we can assist you in deploying an On-the-job Learning™ solution on your platform and managed by your own team.
SNCF : A practical guide to help make new managers successful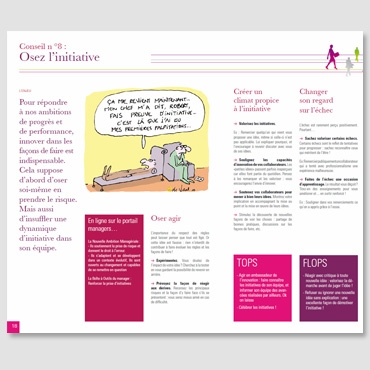 ---
OUR AREAS OF EXPERTISE
¬ Transform management culture
¬ Mobilize people company-wide
¬ Deploy leadership standards
¬ Improve training effectiveness
¬ Successfully deploy HR processes
¬ Support the manager's performance
¬ Promote a strong managerial community

REQUEST A CALL BACK
For a demo or to discuss your needs, please contact us by telephone +33 1 53 24 39 39 or send us a message and we'll be in touch within a business day.