The best advertising ever is a satisfied customer.Bill Gates

Optimize the profitability of your IT investments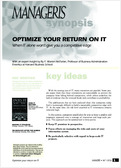 Acquiring a competitive edge with information technologies has become increasingly difficult. In this context, a better approach may be to adopt a cost and risk management approach.
---

With the soaring cost of IT, many executives are puzzled. Some people assure them that these investments are unavoidable to prevent the company from falling behind competitors, while others underline the lack of evidence that the invested funds truly contribute to profitability.

The publications that we have analyzed show that companies today find it increasingly difficult to build a sustainable competitive edge with IT. At the same time, the risk level attached to IT investments remains relatively high.

In this context, companies would often be wise to favor a prudent and pragmatic approach over a strategy of innovation and large-scale projects. This approach can be summarized in three points:

– Keep IT promises in perspective.

– Focus efforts on managing the risks and costs of your information system.

– Be particularly selective with regard to large-scale IT projects.
Synopsis n.137b
---