If you think you are too small to make a difference, try sleeping with a mosquito.Dalai Lama

Managing change in the sales forces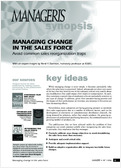 Reorganizing sales teams is a sensitive issue, and a particularly difficult task. How to conduct change by managing the risks specific to this context?
---

While managing change is never simple, it becomes particularly risky where the sales force is concerned. Indeed, salespeople are often very aware of the fact that they feed the rest of the company, and are very touchy about any modification that could impact their results or compensation. As such, they constitute a special class of employees who are particularly sensitive to any type of change. In addition, given their customer-facing position and the impact of their performance on revenues, any missteps in this arena can have devastating effects.

Nevertheless, most companies are facing growing pressure to transform their sales organization due to a number of different factors, such as the development of alternative or complementary distribution channels, the rising demand for solutions, rather than simple products, the growing sophistication of professional purchasing functions, the commoditization of a growing number of products, etc.

The publications that we have selected tackle the problem of how companies can avoid common pitfalls when reorganizing the sales force. In particular, they emphasize four key messages:

– Precisely calibrate your change objectives to avoid destabilizing the sales force more than necessary.

– Anticipate and avoid critical risks.

– Provide adequate implementation support.

– Build an adaptive organization able to integrate inevitable future changes.
Synopsis n.144b
---