The key to successful leadership today is influence, not authority. Kenneth Blanchard

Leadership and knowledge sharing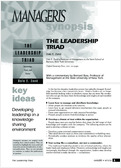 Knowledge has become a key competitive factor. How to rethink leadership to promote the sharing of knowledge in the organization?
subscribers, sign in to download the synopsis
---

In the last few decades, leadership context has radically changed. Knowledge has become a key competitive factor. Modern leaders are no longer field marshals barking orders to obedient troops, but are more like conductors who can get the most from the knowledge and insights of each member of the company.

Learn how to manage and distribute knowledge:
– Allow people the freedom to be creative;
– Learn how to get around defensive mechanisms that cause people to conceal information;
– Focus your organization on truly practical knowledge;
– Prepare people to move from knowledge to action.

Develop a climate of trust within the organization.
People must trust one another before they share the full range of their knowledge and insights with the company. The following means can be used to develop a climate of trust:
– Develop a team-oriented compensation system;
– Take small decisive steps to show your commitment to building trust;
– Periodically conduct analyses to reinforce the quality of key relationships.

Start acting like a consultant, not just a commander.
The traditional leadership model is one of formal authority, where the leader leads and employees follow. However, as knowledge and insights are increasingly distributed through the organization, leaders must develop another method to make decisions — consultation.
Synopsis n.57b
---
subscribers, sign in to download the synopsis