A person who never made a mistake never tried anything new.Albert Einstein

Lateral thinking and marketing innovation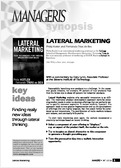 How to introduce more creativity into innovation and invent new markets? Lateral thinking is a way to move away from the beaten path.
subscribers, sign in to download the synopsis
---

Successfully launching new products is a challenge. In the consumer goods industry, for example, 80 percent of new products flop! And the failure rate is about 40 percent for industrial products.

"Lateral Marketing" explains why successful innovation is so difficult. The traditional product development approach starts by analyzing market needs in order to develop offerings that are perfectly suited to specific customer segments. In mature markets, however, this approach leads to ever greater fragmentation and to the development of offerings that are highly targeted, but that could hardly be considered as real innovations. The proliferation of niche markets reduces unit volume, and eventually kills profits.

To start truly innovating once again, the authors recommend a creativity technique based on lateral thinking:

– Select a component of your offering to "displace," e.g. an aspect of the product itself, the market or the mix.

– Try to imagine an absurd alternative to this component to generate a thought-provoking gap.

– Turn this provocative idea into a realistic innovation opportunity.
Synopsis n.121b
---
subscribers, sign in to download the synopsis