The leaders should all relate to this principle: the governed must be as happy as possible.Cicero

How to surmount culture clash following a merger?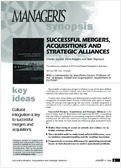 Successfully integrating two different cultures of origine is a key factor in the success of mergers and acquisitions, but also for strategic partnerships.
---

Successfully conducting a merger or alliance is one of the most difficult challenges for any leader. Indeed, more than half of all mergers are considered to be failures five years down the road.

In most cases, these failures are demonstrated to result from insufficient recognition of cultural issues. Priority is effectively often given to negotiating the contract and organizing the new entity. Cultural integration is considered to be a sensitive subject, and is consequently often pushed aside.

"Successful Mergers, Acquisitions and Strategic Alliances" is the fruit of many years of observation and experience by IMC, a consulting firm that offers an approach to overcoming integration challenges. Above and beyond the relatively traditional change management method suggested in the book, we have found the following ideas particularly helpful:

– Rather than trying to create an entirely new culture, try to bridge existing cultures.

– Use a detailed audit to understand cultural differences, so as to minimize misunderstanding and the resulting frustration.

– Progressively overcome differences by appointing mixed task forces to find shared ways to resolve operational problems.
Synopsis n.108a
---