The best advertising ever is a satisfied customer.Bill Gates

Focusing your organization on the individual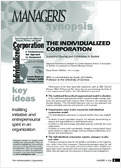 How to develop individual initiative and entrepreneurial spirit in a vast organization?
subscribers, sign in to download the synopsis
---

Observation of the most successful companies, such as ABB, General Electric, IKEA, Philips and 3M, shows that we are witnessing the birth of a new organizational model—the individualized corporation.

The traditional hierarchical organizational model is obsolete.
In the traditional organizational model, executives make strategic decisions and operational staff executes them. However, this approach has become obsolete. This old model must give way to a new approach that inspires individual creativity and initiative in all its people.

Organizations must evolve toward the individualized corporation model.
The individualized corporation is characterized by three core capabilities:
– Its ability to foster individual initiative, by radically decentralizing resources and responsibilities to small business units.
– Its ability to link and leverage individual expertise to benefit the entire organization.
– Its ability to renew itself continuously, through a strong shared vision, great capacity to adapt to change, and a continuous combination of expansion and rationalization.

The individualized corporation requires managers to play new roles.
Company executives must be the builders and leaders of the organization, rather than chief strategists. Operational managers must be real entrepreneurs, rather than people who merely follow orders. Middle managers must coach operational staff and ensure organizational alignment, rather than just supervise the execution of decisions from headquarters.
Synopsis n.63a
---
subscribers, sign in to download the synopsis