When two forces unite, their efficiency double. Isaac Newton

Customer retention and brand attachment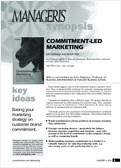 Customer loyalty is not always linked to their satisfaction. How to base your marketing policy on customer brand attachment?
---

Many books suggest ways to help companies improve customer retention. Most recommend fully satisfying the customer, surpassing customer expectations and developing exemplary customer relationships. In practice, however, companies observe that it takes more than this to build a loyal customer base.

"Commitment-Led Marketing" offers a different angle. The authors describe an original framework for understanding the retention issue. They introduce the new concept of "commitment," which determines the future buying behavior of customers and non-customers alike.

This book presents the conclusions of several hundreds of worldwide studies covering more than 200 product categories. Our analysis underlines several particularly enticing conclusions:

– Brand commitment is a better predictor of customer retention than satisfaction.

– Strategic marketing choices – particularly the balance between customer acquisition and retention – must take account of the level of commitment to the company's brand, as well as competing brands.

– Understanding consumer commitment on a market is a valuable indicator for selecting marketing tools, e.g. advertising, point of sale marketing efforts, etc.
Synopsis n.99b
---