The best advertising ever is a satisfied customer.Bill Gates

Choose your ethical positioning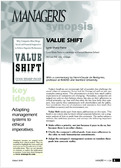 Good ethical conduct is a now obligatory. But what kinds of commitments should companies make? And how to adapt management systems to ensure compliance with ethical commitments?
---

Today's headlines are increasingly full of scandals that challenge the moral values of companies. Enron and the Prestige oil spill are just two examples among many. This phenomenon reveals how much public expectations of companies are changing. Nowadays, companies are judged not only on their balance sheets, but also on their adherence to ethical principles, e.g. how well they obey the law, how fairly they compete, how openly they communicate with shareholders and the public, how considerate they are of employees and customers, how much they contribute to society and the environment, etc.

"Value Shift" stands apart from many publications on this topic. This book is not a mere plea for more ethical corporate behavior, nor a pragmatic analysis of how to profit from this constraint. The author adopts realistic, but ambitious position, and conveys the following important messages:

– Make ethics a priority, not just because it pays to do so, but because there is no other choice.

– Clarify the company's ethical goals, from mere adherence to the rules to truly humanitarian commitments.

– Adapt the company's management systems to translate these goals into concrete reality.
Synopsis n.112a
---