Progress comes from the intelligent use of experience. Elbert Hubbard

Capitalize on the Six Sigma method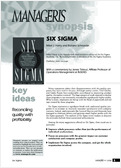 How to reconcile quality and profitability. Learn how Motorola and General Electric successfully applied the Six Sigma approach.
subscribers, sign in to download the synopsis
---

Many companies admit their disappointment with the quality programs they have tried in the past. Although quality circles, "Total Quality" and "Gemba Kaizen" have undeniably contributed to improving product quality, the upshot is mixed. The huge amount of work required to deploy these programs is not necessarily rewarded by significantly higher profits. What is more, employees are fed up with the flood of paperwork and red tape created by these programs.

"Six Sigma" represents a significant break with traditional quality programs in its attempt to reconcile customer satisfaction with company interests. Indeed, multinationals like General Electric and Motorola have managed to eliminate defects and generate much higher profits with the Six Sigma approach. The authors of "Six Sigma" invite readers to discover the principles behind these exceptional achievements.

Among the many suggestions, three stand out in particular:

– Improve whole processes rather than just the performance of individual workstations.

– Focus on processes with the greatest impact on customer satisfaction and company profits.

– Implement Six Sigma across the company, and get the whole organization involved.
Synopsis n.109a
---
subscribers, sign in to download the synopsis