Become who you are. Make what only you can make.Friedrich Nietzsche

Building teams that are both efficient and creative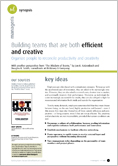 The current business environment requires people to develop both their productivity and their creativity. What organization to adopt to reconcile these two demands?
---

Employees are often faced with contradictory pressures. To keep up with the accelerated pace of innovation, they are asked to be increasingly creative. However, they are also asked to control costs, shorten time to market, and continually improve their performance. Moreover, as individuals become increasingly accountable for results, they are also obliged to fight for resources and information both inside and outside the organization.

Torn by many demands, employees sometimes feel that they must choose between being, on the one hand, highly productive and focused – even if this means they must shut themselves off from outside influences and perspectives – or being creative, even if they are not as efficient. Yet, creativity and productivity are not irreconcilable, provided that certain conditions are met:

– Encourage a culture of collaboration, because pooling information and expertise enhances both performance and innovation.

– Establish mechanisms to facilitate effective networking.

– Foster openness to enable teams to receive external input and perspectives without becoming distracted.

– Vary management styles depending on the personality of team members and project phases.
Synopsis n.168b
---