Become who you are. Make what only you can make.Friedrich Nietzsche

Turn the board of directors into a real performance driver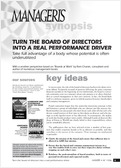 What best practices can be applied to take full advantage of the board of directors, a team which is too often underexploited?
---

In recent years, the role of the board of directors has been the object of intense debate. Frequently accused of passivity following the grave corporate financial scandals at the beginning of new millennium, the board is conversely sometimes seen as a structure whose sole purpose is to allow shareholders to control management in their own interests. In fact, the board finds itself in a delicate situation, given its hybrid position between shareholders and company management.

People sometimes forget that this somewhat mysterious structure is first and foremost a group of individuals who are (almost) just like anyone else. Board members are just people who don't know each other all that well, who devote a small portion of their time to their duties as director, and who manage to work together more or less effectively. In consequence, the quality of work that boards produce varies widely. Although boards of directors like those of Enron or WorldCom clearly failed in their responsibilities, others can be remarkably effective.

The publications that we have selected review a number of best practices that enable corporate boards to be as effective as possible, and thus contribute to the success of the company. Three messages are emphasized in particular:

– Clarify the mission of the board and ensure that sufficient time is allowed to fulfill that mission.

– Ensure that the board and company management interact in a way that enables both to carry out their respective duties without stepping on each other's toes.

– Reinforce the professionalism of board members, both in terms of personal involvement and expected results.
Synopsis n.155b
---