Men build too many walls and not enough bridgesIsaac Newton

The Nissan turnaround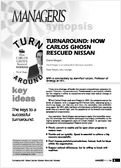 What principles did Carlos Ghosn use to achieve Nissan's spectacular turnaround? A shining example for any leader faced with the challenge of changing an organization rapidly.
---

There is no shortage of books that recount extraordinary corporate triumphs. However, this success story, "Turnaround," is particularly valuable for the insights it offers to executives who must lead radical change in their organizations.

When Carlos Ghosn took over Nissan in 1999, the company was on the brink of disaster, with a staggering $22 billion debt, slumping sales, a declining image, etc. Just one year later, the automaker was profitable once again. By 2001, debt had been whittled down to $4 billion, operating profit was at a record high, and the popularity of the brands new models surpassed all expectations.

As a journalist, David Magee was curious to study this incredible recovery. He concludes that Nissan's turnaround was largely attributable to the highly personal management style of Ghosn himself. In particular, four management principles guided Nissan's revival plan:

– Firmly commit to results and be open about progress to restore trust.

– Decide and act quickly. Speed is essential to achieve a big recovery successfully.

– Don't impose prefabricated solutions. Instead, look for ideas within the organization.

– Respect cultural differences, but be willing to break with tradition.
Synopsis n.117a
---