The man who moves a mountain begins by carrying away small stones.Confucius

The keys to trust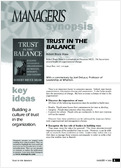 Trust helps promote empowerment, information sharing and cooperation. How to create a trusting culture within the organization?
---

Trust is an important factor in corporate success. Indeed, trust fosters empowerment, information sharing and cooperation. It also helps people face the uncertainty of change. But how to create a climate of trust in the organization?

Discover the imperatives of trust.
All three of the following imperatives must be satisfied to build trust:
– Results: People must honor their commitments for trust to develop;
– Integrity: People must practice what they preach;
– Concern for others: People who act exclusively in their own interests will not be trusted.
Discover how these conditions can be cultivated by important behavioral, organizational and management choices.

Recognize the key role of leaders in building trust.
Trust must never be taken for granted. The three aforementioned imperatives must all be satisfied for trust to exist. However, it can be difficult to reconcile these conditions at times. Leaders must realize that it is their duty to manage these tensions continuously in order to strike a balance that enables trust to flourish.
Synopsis n.58b
---