A leader is a dealer in hope.Napoleon Bonaparte

Managing crises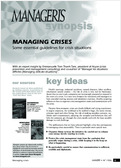 What key principles to apply to avoid making mistakes in extremely destabilizing crisis situations?
subscribers, sign in to download the synopsis
---

Health warnings, industrial accidents, natural disasters, labor conflicts, information system crashes – the risk of crisis is very real for businesses. Aware that no one is safe, companies are increasingly prepared to respond in the event of a crisis. It is now very frequent for executives and managers to have attended training sessions and simulation exercises, thereby acquiring reflexes on how to organize crisis management teams and communicate with the press.

Despite these measures, crises are clearly difficult and trying experiences. In urgent situations, the workload to be tackled is huge, the stress intense, criticism rapid and often biting, the risk of making mistakes constant, etc. Under such circumstances, adopting the attitudes and behaviors that will help the company get through the crisis rapidly and with the least possible damage is a real challenge.

The publications that we have selected highlight a few key prerequisites for managing crises successfully. Three in particular merit special note:

– Organize things to keep the initiative: be careful not to exhaust your energy merely reacting to events.

– Protect the crisis management team from the confusion that generally reigns during a crisis, while keeping it in the loop on what is happening.

– Be particularly careful to ensure that communication is sufficient, credible and diplomatic.
Synopsis n.152b
---
subscribers, sign in to download the synopsis