The speed of the boss is the speed of the team.Lee Iacocca

Manage your human capital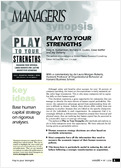 Human capital is the only cost item whose profitability is rarely measured with precision. How to base your human resource strategy on rigorous analysis?
subscribers, sign in to download the synopsis
---

Although salary and benefits often account for over 30 percent of company spending, the return on this expenditure is rarely measured, unlike other large investments. This is why many companies fail to capitalize fully on their human capital.

This therefore represents a great opportunity for companies that can manage to identify the main drivers of human capital profitability. Moreover, the competitive advantage gained from understanding these drivers is difficult to imitate. Indeed, these drivers differ widely from one company to another, because they are linked to the specific characteristics of the individuals in each organization. As companies find it increasingly difficult to differentiate themselves around their financial and physical assets, they are realizing that human capital has the potential to be a sustainable source of strategic advantage.

The authors of "Play to Your Strengths" offer methods and analysis tools to help companies seize this opportunity. We have selected the following points as particularly salient:

– Human resources strategy decisions are often based on unreliable information.

– Most companies have all the information they need to measure the economic impact of their human resources policies.

– This know-how is particularly useful in reducing the risk of failure following a strategic transformation or acquisition.
Synopsis n.122a
---
subscribers, sign in to download the synopsis