Men build too many walls and not enough bridgesIsaac Newton

Manage your customer equity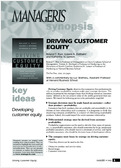 Product profitability analyses often lead to poor decisions. Wouldn't it be better to focus strategic thinking on customer equity?
---

"Driving Customer Equity" observes that companies that predominantly rely on product profitability analyses make poor strategic decisions. The authors recommend that managers focus their thinking instead on "customer equity," defined as the net present value of the profits generated from customers. We found the following points to be particularly insightful:

Strategic decisions must be made based on customer—rather than product—profitability.
Customers buy both products that are profitable and unprofitable in the lifetime of their relationship with a company. It is dangerous to think that improving company profitability is a matter of eliminating unprofitable products. Indeed, this could imperil the entire customer relationship.

Differentiated strategy must be derived from customer profitability.
Profitability segmentation can be used to identify three types of customers, i.e. unprofitable customers, who should sometimes be let go; moderately profitable customers, who should receive a minimum of service, and highly profitable customers, who should be the main focus of development efforts.

The company must focus its strategy on driving customer equity.
Three key drivers can be used to do this:
– Objective product and service value;
– Brand image;
– Customer retention.
Synopsis n.94b
---