All that we are is the result of what we have thought.Buddha

Institutionalize coaching in your organization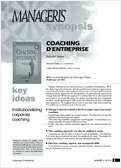 How to institutionalize coaching throughout the company, on both an individual and collective level?
subscribers, sign in to download the synopsis
---

Human relations are an essential factor in company performance. With the flattening of the hierarchy and the proliferation of matrix organizations, interpersonal relations take on greater importance. In "Coaching d'entreprise," Edouard Stacke advocates the development of personalized coaching to change behavior. While this approach is traditionally left to the experts and restricted to a few specific cases, the author recommends that companies develop "coaching managers" able to use this method with their colleagues and employees. He suggests many ways to develop large-scale coaching. The following conclusions appeared essential:

Managers must be trained in the three major steps of personal coaching.
– Coaches must first conduct an in-depth analysis. The objective is to identify problems and reveal their root causes.
– They must then establish a progressive "coaching plan." It is unrealistic to attempt to modify all negative behavior at once.
– Finally, they must provide continued support for the coached person's efforts.

The coaching approach can also be applied to teams.
Coaching can also be used to improve team performance. The objective is to create good chemistry between the members of a team. This makes the group more effective than merely placing individuals together.

Effective coaching requires new managerial skills.
To be effective coaches, managers must be available, objective and attentive to themselves and others.
Synopsis n.91a
---
subscribers, sign in to download the synopsis