Nothing is so contagious as example.La Rochefoucault

How to achieve excellence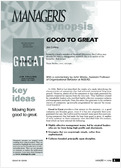 How to move your performance from average to exceptional? Companies that excel tend to share certain distinctive features.
---

In 1994, "Built to Last" described the results of a study identifying the characteristics of companies that had achieved exceptional long-term growth. However, almost all of the companies in that study possessed the qualities required for success from the very start. They had been created by remarkable leaders who instilled highly-effective corporate cultures and management methods. Does this mean that greatness is the exclusive reserve of companies "genetically programmed for success" by exceptional founders?

"Good to Great" provides a clear answer to this question, i.e. a good company can become great, even if it has not originally been programmed that way. Jim Collins and his research team spent five years analyzing companies that had made the leap from good to great. A number of traits common to these companies were identified from this analysis from which we have selected the following:

– Highly-effective management teams, led by atypical leaders who are far from being high profile and charismatic.

– Strategies that are surprisingly simple, rather than sophisticated.

– Cultures founded principally upon discipline.
Synopsis n.104a
---