There is nothing permanent except change.Heraclitus

Emotions and leadership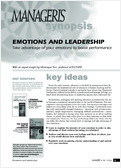 Long rejected by the business world, emotions are now accepted as a normal part of the landscape. How to manage your emotions effectively in order to capitalize on their power to drive performance?
---

Since the early nineties, advances in the field of neuroscience have demonstrated the fundamental role of emotions in human learning and behavior. Daniel Goleman's books in particular have shown that Emotional Intelligence, defined as the ability to understand and manage feelings, is a much more determining factor in leadership success than traditional IQ.

Nonetheless, managing and utilizing emotions constructively has yet to become a commonly accepted idea in the world of business. Few management training programs cover this topic, leaving many managers and leaders at a loss about what do to with their feelings. Confronted every day with emotionally-charged situations – decisions with serious consequences, tough negotiations, managing difficult personalities – many leaders feel isolated in facing what they perceive as an all-or-nothing choice, in which they must either give in to their emotions or shut them out completely. However, the best performing leaders are those who do not make this choice, but instead learn to manage and take advantage of their emotions.

– Learn to regulate the intensity of your emotions in order to take advantage of them without becoming overwhelmed.

– Analyze and discuss your own feelings and those of others, just as you would discuss facts and deeds.

– Regularly work on gaining a better understanding of and control over your emotions.
Synopsis n.172b
---