Leadership and learning are indispensable to each other. John F. Kennedy

Develop a creative culture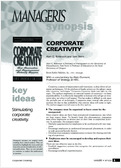 "Creativity techniques" do not take sufficient account of the unpredictable nature of creativity. A better idea is to develop an atmosphere conducive to the emergence of creative ideas.
subscribers, sign in to download the synopsis
---

Creativity, a source of improvement and innovation, is a key driver of corporate performance. Of the plethora of books written on the subject, many offer creativity "techniques." "Corporate Creativity" sheds new light on this topic. The authors emphasize an essential feature of creativity—its basic unpredictability. It is effectively impossible to forecast who will get an innovative idea, nor when it will appear. This fact makes it difficult to rely upon the periodic use of techniques. Companies must instead take pains to increase the day-to-day probability that creative ideas will come to light. The authors suggest several ways to do this, such as:

The company must be organized to leave room for the unexpected.
Most creative ideas are born from unexpected circumstances, just when we least expect them. To benefit from this phenomenon, companies must allow employees to devote part of their time to unplanned activities. In particular, the company must:
– Multiply opportunities for employees to be confronted with new situations.
– Encourage employees to understand unexpected phenomena in order to seek potential benefit therein.
– Develop cross-company communication to foster the sharing and linking of experience.

Employees must be encouraged to develop and express their own ideas.
There are two effective ways to do this:
– Establish suggestion systems that recognize the participation of each contributor.
– Encourage unofficial experimentation.
Synopsis n.92b
---
subscribers, sign in to download the synopsis