The real act of discovery consists not in finding new lands but in seeing with new eyes. Marcel Proust

Choose your battles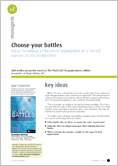 How can managers give their subordinates the motivation they need to make fundamental changes? By avoiding dispersion and staying focused on a small number of key battles at any one time.
---

What executive or leader has never felt overwhelmed by the immensity of the changes that he or she would like to implement? The natural reaction is then to develop an action plan in order to identify, organize and sequence all of the initiatives required to carry out these changes properly.

This is a mistake, according to the authors of "Must-win Battles". Very often, the most effective way to drive major transformations is to focus on a small number of key goals and to renounce upon other objectives that may nonetheless be perceived as genuinely important.

To conduct such a strategy successfully, companies must nevertheless be very careful in choosing these key battles:

– Select battles that are likely to engage the entire organization.

– Make the effort to obtain consensus when selecting these key battles.

– When selecting these battles, rapidly set the stage for their deployment.
Synopsis n.162a
---