The leaders should all relate to this principle: the governed must be as happy as possible.Cicero

Marketing in the Web 2.0 age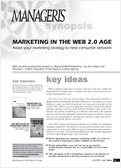 The emergence of the Internet has caused some fundamental market shifts, specifically in terms of consumer behavior. How to adapt your marketing practices accordingly?
---

What company today does not have a web site? This new window for displaying the company and its products and services has become an essential communication tool.

Yet, this is only the tip of the iceberg. The omnipresent Internet is fundamentally transforming attitudes and behavior. According to a recent McKinsey study, one third of purchases are expected to be made on the web by 2010. Almost everyone today does research on the Internet before making a purchase, and can easily find all information they need. Communities are created, assembling very different individuals with common interests who may live thousands of miles apart from one another. Internet users are now accustomed to sharing their opinions widely, and self-expression has become almost a necessity.

All of these changes are forcing companies to overhaul their marketing strategies completely. The Internet is not just another media outlet, but an opportunity to create a very different type of relationship with customers, and meet new needs. The analyzed publications offer helpful suggestions on how to take full advantage of the web today:

– Before launching into expensive marketing studies, be aware of the wealth of information widely available on the Internet.

– Design and facilitate your web site not as just another communication channel, but as a central pillar of your brand image.

– Take advantage of the extraordinary capacity of the Internet to circulate information to develop awareness of your brand.
Synopsis n.165b
---