The speed of the boss is the speed of the team.Lee Iacocca

Avoid the pitfalls of CRM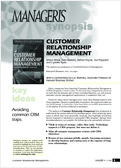 How to avoid the pitfalls of CRM to capitalize on the full potential of tailored customer relationships?
---

Many companies have launched Customer Relationship Management (CRM) programs in recent years. To this end, they integrated an entire set of tools that has become part of their everyday business, e.g. call centers, customer contact management applications, e-commerce sites, etc.

However, many senior managers now voice their disappointment with these programs. Despite considerable investment, the expected results are not forthcoming. In particular, there have been no notable improvements in the quality of service rendered to customers.

The authors of "Customer Relationship Management" have attempted to understand the reasons behind this disillusionment. After analyzing many cases in which they were personally involved, they highlight several key factors required to implement a successful CRM program. Among these recommendations, we consider the following to be particularly relevant:

– Think in terms of strategy, rather than tools. Technology supports a CRM program, but must not define it.

– Align all company management systems with CRM objectives.

– Beware of two common pitfalls, namely, harassing customers to develop business and cutting costs at the expense of long-term relationships.
Synopsis n.119b
---