If you treat an individual as he is, he will stay as he is; but if you treat him as if he were what he ought to be and could be, he will become what he ought to be and could be.Goethe

Creative destruction at the service of growth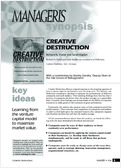 Company performance is often held back by the natural tendency to focus on business continuity. How to learn from the venture capital model to combat this tendency?
---

"Creative Destruction" offers an original response to the recurring question of how to sustain superior performance over the long term. The authors, two McKinsey consultants, decided to compare the performance of different companies and stock markets. Their alarming findings show that less than 2 percent of companies do better than the market average on a sustainable basis. Certainly, these findings cast serious doubt on the ability of corporate executives to make good on their promises of great performance.

Fortunately, the authors also propose ways to help companies avoid this pitiful situation. They continue their comparison of companies and markets in order to shed light upon the structural reasons why companies stagnate and therefore perform less well than the market average.

Of the recommendations drawn from this analysis, we found the following to be the most immediately beneficial and practical:

– Companies must be wary of their tendency to foster continuity over performance.

– Companies can benefit by applying the venture capital model to their businesses, i.e. develop many businesses simultaneously, and be ready to sell those that perform inadequately.

– Companies must be ready to change some of the ways they operate, such as strategic planning, innovation management, organizational structures, etc.
Synopsis n.99a
---