Masterpieces are only lucky attempts.George Sand

The leader as developer of future leaders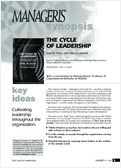 The presence of leaders at all levels is a major asset to ensure organizational agility. But how to develop these leadership skills?
---
EN SAVOIR +


No corporate leader – charismatic as he may be – can lead a company to glory on his own. Certainly, PepsiCo's success has a lot to do with the personality of its former CEO, Roger Enrico. And who would deny Jack Welch's instrumental role in the extraordinary achievements of GE? However, these leaders were so successful precisely because they had the support of proactive, empowered and efficient employees at all levels of the organization – in other words, the support of real leaders.

Everyone now recognizes that having leaders throughout the organization is a precious asset. Yet many still wonder how to develop these leadership abilities. Is training the key? Recruiting? Career development?

For many years, Noël Tichy worked alongside executives like Welch and Enrico. As a privileged witness to the efforts they made to transmit their leadership skills, he consigns his conclusions to "The Cycle of Leadership". Three principles developed in the book are of particular interest:

– Think of leaders as teachers, but teachers who are willing and able to listen to their students;

– Get this attitude to cascade through the organization, starting from the top;

– Stimulate learning by exposing future leaders to the realities of the outside world.
Synopsis n.110a
---