There is nothing permanent except change.Heraclitus

The keys to hierarchical relationships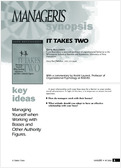 The ability to manage the relationship with superiors is critical for managers to perform well and advance in the organization. What key drivers can be used to hone this ability?
---

How do managers act in their relationships with their superiors?
Every manager has his own characteristic behavioral style that he tends to adopt regardless of circumstances. Three factors distinguish the different behavioral styles:
– Deference, i.e., the desire to push for influence.
– Divergence, i.e., how much a subordinate trusts his boss.
– Distance, i.e., how personal a subordinate is willing to get with his boss.

What attitude should you adopt to optimize the effectiveness of your relationship with your boss?
Every style has its advantages. However, specific styles may be totally inappropriate in some situations. To be an effective manager, you must learn to adapt your behavior depending on the situation. To do this:
– Start by identifying your style. You will then understand the advantages and disadvantages of your behavior.
– Learn to recognize situations where your style is not appropriate and force yourself to adapt it.
Synopsis n.38b
---