The real act of discovery consists not in finding new lands but in seeing with new eyes. Marcel Proust

The challenges of corporate citizenship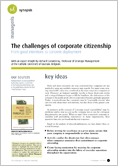 Although the concept of the socially responsible company is increasingly popular, putting theory into practice is quite a challenge. How to move from good intentions to successful execution?
subscribers, sign in to download the synopsis
---
EN SAVOIR +
¬ Evolving towards circular economy
¬ Combine economic and social performance
¬ Corporate social responsibility: decipher expectations


More and more executives are now convinced that companies are not justified in using any available means to turn a profit. For many years, creating shareholder value was considered as the main reason for companies to exist. However, as financial scandals, layoffs to boost short-term profits and ecological disasters began to fill the headlines, the deficiencies of the concept of the purely profit-driven corporation became glaringly apparent. Today, it seems obvious that companies must be "responsible citizens" who care not only about their own interests, but also those of the greater community.

As attractive as the concept of "corporate social responsibility" may be, problems tend to arise as soon as the company tries to put the corresponding principles into action. Where to start? How to reconcile corporate citizenship with profitability imperatives? In many organizations, these questions have not yet found satisfactory responses.

Based on the analysis of selected publications, we have drawn three essential learnings:

– Before striving for excellence in a given arena, ensure that your company is irreproachable in other domains.

– Actively combat the skepticism that often emerges when companies announce their commitment to corporate citizenship.

– Create lasting momentum by weaving the corporate citizenship mindset into the fabric of everyday operations throughout the organization.
Synopsis n.131b
---
subscribers, sign in to download the synopsis