However beautiful the strategy, you should occasionally look at the results.Winston Churchill

Succeeding in India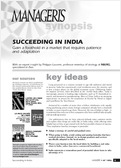 Many businesses are interested in taking advantage of the huge potential of the Indian market. However, gaining a successful foothold in India takes perseverance and real effort to adapt.
subscribers, sign in to download the synopsis
---

Long perceived as a country steeped in age-old traditions and mired in poverty, India has experienced a real revolution since the nineties, and is now a major player on the global economic scene. Offshoring leader for support services, often described as the "world's back office," India is increasingly present in leading-edge industries, such as IT, biomedical research, and automotive manufacturing. Akin to China, India is an emerging super-power, as proven by the acquisition of Arcelor by Mittal or Jaguar and Land Rover by Tata Motors.

Attracted by a market of more than a billion inhabitants with rapidly rising purchasing power, many foreign companies already have a foothold in India, or soon intend to go there. However, the rate of failure is high – it is estimated that only one in five companies who have tackled India actually end up making money.

The publications that we have selected debunk some common myths and explain what things are really like in India today, while offering some helpful tips on how to get started with the best possible chances of success. They emphasize four key messages in particular:

– Adopt a strategy of careful and gradual entry.

– When going to India, avoid cutting and pasting formulas that have worked elsewhere. Instead, try to design products and services specifically adapted to the local market.

– Weave your business into the local fabric by building a real value chain in India, rather than just a commercial beachhead.

– India represents a tremendous pool of potential talent: learn to take advantage of it.
Synopsis n.169b
---
subscribers, sign in to download the synopsis