The speed of the boss is the speed of the team.Lee Iacocca

Protecting your company's reputation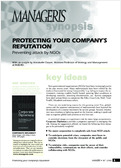 A number of the world's leading companies have been taken aback following unexpected attacks by NGO. How to keep this from happening to your organization and optimize your relations with NGO?
subscribers, sign in to download the synopsis
---

Non-governmental organizations (NGOs) have been increasingly active in the past twenty years. Many multinationals have been vilified by the media or boycotted for acting "irresponsibly," e.g. failing to respect the environment, creating a public health hazard, ignoring labor conditions in developing countries, practicing discrimination, etc. Activist campaigns have dealt serious blows to companies like Nike, Coca-Cola, Shell, Total-FinaElf, Mitsubishi and many others.

There are two underlying reasons for this growing trend. First, globalization and the apparent omnipotence of multinationals have fostered the development of a counter-movement by activist groups. Second, information now circulates at lightning speed on the Internet, making it quick and easy to organize global-scale protests at very low cost.

A tarnished image is a significant risk for most large corporations. "Corporate Diplomacy" provides a pragmatic approach to managing this risk. Among the suggestions offered, we found the following three messages to be particularly insightful:

– No major corporation is completely safe from NGO attack.

– To anticipate potential crises, companies must learn to consider decisions from the viewpoint of the public and NGOs.

– To minimize risks, companies must be aware of their vulnerability, communicate on their efforts, and consider collaborating with NGOs.
Synopsis n.124b
---
subscribers, sign in to download the synopsis