Nothing is so contagious as example.La Rochefoucault

National culture and behaviors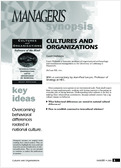 A study of IBM employees from 50 countries identifies the impact of national culture on behavior. What lessons can be drawn in terms of management practices?
---

What behavioral differences are rooted in national culture?
National culture has a powerful influence on four dimensions:
– Power distance, that is, the extent to which a society accepts unequal distribution of power, status and wealth.
– The individualism or collectivism of the society.
– The degree of masculinity or femininity of the society, that is, social impact of gender.
– The need to avoid uncertainty.

How to establish constructive intercultural relations?
– Keep in mind that management theories and organizational principles are developed in specific cultural environments. They must therefore be adapted to local culture before they can be applied outside their country of origin.
– Learn to understand other cultures. We must first become aware of our own mental programming. We must then learn about other cultures. Finally, we must put this knowledge into practice.
Synopsis n.28b
---