A person who never made a mistake never tried anything new.Albert Einstein

Moving from strategy to action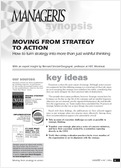 How to keep the strategic plan from remaining a pipe dream? Focusing on execution upstream is a good way to avoid many pitfalls.
subscribers, sign in to download the synopsis
---

Execution is often the poor cousin of strategy. Although senior executives commonly feel that defining strategy is a critical part of their job, many act as if executing that strategy were somehow less noble, considering that they can easily delegate the mere practical tasks of deployment.

This attitude often causes problems, however. Strategic visions have little impact on the day-to-day life of the company and are quickly forgotten, objectives are not attained, poorly organized deployment irks and destabilizes the organization, etc. Some studies have concluded that 70 percent of strategic failures are due not to poor design, but poor execution!

Faced with these findings, the publications we have selected suggest ways to put strategic plans into practice more effectively. Among these, three recommendations appear to be particularly critical:

– Take account of execution challenges as early as possible in strategic thinking.

– Translate your strategic plan into a series of concrete initiatives, and have their execution tracked by a committee reporting directly to the CEO.

– Verify that existing evaluation practices incite every member of the organization to act in alignment with the strategy.
Synopsis n.149a
---
subscribers, sign in to download the synopsis