Men build too many walls and not enough bridgesIsaac Newton

Master and manage knowledge and information in your business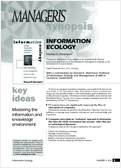 How to manage knowledge and information more effectively in your organization? Read about the risks of an overly-technical approach and the keys to true information management.
subscribers, sign in to download the synopsis
---

To listen to computer journalists and gurus, you would think that we are now firmly in the Information Age. According to them, revolutionary things are now possible thanks to new technologies, such as databases, networks and expert systems. Information is more available, more relevant and distributed better. So why are so many managers disappointed with the performance of their IT investments?

IT systems have not significantly improved the flow of information in companies.
Information systems are good for handling data. However, they are not sufficient to manage more complex information, such as knowledge and experience.

Companies must adopt an "ecological" approach to information that takes the whole environment into account, rather than just its technological dimension.
Companies must do five things to implement this approach:
– Clarify the information strategy;
– Manage internal politics;
– Adapt the culture and attitudes;
– Build a network of information specialists;
– Facilitate access by mapping information sources.
Synopsis n.57a
---
subscribers, sign in to download the synopsis