Progress comes from the intelligent use of experience. Elbert Hubbard

Managing your stress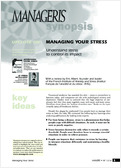 Stress is not a disease, but a faculty needed to adapt to change. How to understand stress in order to manage its consequences?
---

Vocational medicine has sounded the alert – stress is everywhere in business today, and companies are rife with pathological anxiety and depression. Studies tend to concord that the huge majority of employees feel that they must regularly cope with more and more stress. Headlines shout about the "malaise of modern man." Books on the topic virtually jump off bookstore shelves.

Should this plague be eradicated? Can people learn to manage their stress to limit the risks? We extracted the following key learnings after analyzing publications by leading stress experts:

– Far from being a disease, stress is a phenomenon that helps people cope with difficult situations. As such, it must not be seen as purely negative.

– Stress becomes destructive only when it exceeds a certain threshold. People must therefore learn to manage stressful situations in order to relieve pressure.

– People can improve their resistance to stress by learning to interpret situations differently and maintaining a healthy lifestyle.
Synopsis n.121a
---