We cannot solve our problems with the same thinking we used when we created them.Albert Einstein

Management by means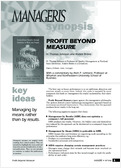 Managing by means may be a more harmonious approach than managing by results, given that MBM is founded upon continuous optimization of business operations and processes.
subscribers, sign in to download the synopsis
---

The best way to boost performance is to set ambitious objectives and motivate people to attain them. Indeed, this credo is espoused by many companies that bank on "management by results" acclaimed by their shareholders.
Profit Beyond Measure argues against this management philosophy. The authors defend a more harmonious management approach based on continuous operational improvement. They demonstrate that this approach produces better results in the long run.
The following arguments support their thesis:

Management by Results (MBR) does not optimize a company's full potential.
MBR produces fast results. However, the hidden costs and demoralization induced by this approach can be detrimental to a company's long-term performance.

Management by Means (MBM) is preferable to MBR.
MBM focuses first and foremost on organizing work according to the principles that underpin long-term efficiency, e.g.:
– Produce in a continuous flow.
– Standardize processes and components.

MBM requires changing certain management practices:
– Managers must change their attitude and become more involved on the operational level.
– Performance indicators must be fine-tuned enough to track the profitability of each order.
Synopsis n.94a
---
subscribers, sign in to download the synopsis