Progress comes from the intelligent use of experience. Elbert Hubbard

Manage cultural differences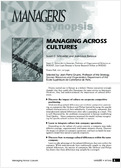 Specific cultural characteristics have an impact on the competitive standing of a business. How to adapt company practices to capitalize on national cultural differences?
subscribers, sign in to download the synopsis
---

Disney started out in Europe as a failure! Disney executives wrongly thought that they could offer Europeans the same service as Americans. However, they had underestimated the importance of cultural differences.

– Discover the impact of culture on corporate competitive positioning.
Understanding cultural differences can reinforce competitive positioning, as companies like Unilever and Philips learned by using the specific cultural characteristics of their subsidiaries. Conversely, companies that misunderstand cultural differences often take a pounding as a result. This is well illustrated by the problems encountered in Europe establishing Total Quality. Many companies imported this model without recognizing the specific cultural context that made it a success.

– Learn to integrate culture into company operations.
Depending on the culture of a given country, a company may make different strategic, organizational, and human resource choices. Discover the impact of culture on company operations, and learn to build the management model best suited to specific situations.

– Discover how to manage cultural differences within the same company.
Learn to take advantage of the cultural differences that exist within the company. While multinationals have traditionally sought to play down cultural differences, the success of companies like Unilever and Philips has shown that these differences may actually be a strength.
Synopsis n.54b
---
subscribers, sign in to download the synopsis