Masterpieces are only lucky attempts.George Sand

Learning from Sony's success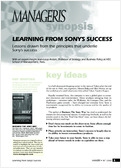 A small company created in 1946, Sony is now a global electronics and entertainment giant. What lessons can be learned from this success story?
subscribers, sign in to download the synopsis
---

In a half-destroyed shopping center in the ruins of Tokyo after the end of the war in 1946, two engineers, Masaru Ibuka and Akio Morita, set up the workshop of a small electronics firm called Tokyo Tsushin Kogyo.

Rapidly renamed Sony, this company is now a global giant in consumer electronics and entertainment. Many products emerging from its workshops – transistor radio, the Walkman, the Compact Disc, and the PlayStation game console – have changed our everyday lives. Sony is unanimously recognized for its ability to innovate and for the quality of its products.

The author of "Business The Sony Way" has tried to understand the reasons for this exceptional success. In analyzing this book, as well as the articles cited in the first "Find Out More" inset, we have drawn the following relevant teachings:

– Don't focus too much on the short term. Sony allows enough time for its investments to come to fruition.

– Place priority on innovation. Sony's success is largely due to its ability to invent extraordinary products.

– Take your future in your hands. Sony is able to stay a step ahead of future trends in order to capitalize on them.
Synopsis n.126b
---
subscribers, sign in to download the synopsis