The real act of discovery consists not in finding new lands but in seeing with new eyes. Marcel Proust

Identify and target the profit zones in your market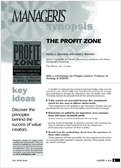 What are the keys to the success of value creation champions? One key is their ability to reinvent the rules of their industry continuously.
---

A handful of companies has created exceptional market value over the past fifteen years. Swatch, ABB, Intel, Schwab and Coca-Cola, for example, have performed on average five times better than the market since 1980! What are the principles behind their phenomenal success?

Value creators are successful because they continuously search for new ways to address market needs.
These companies can be qualified as real "reinventors," because each one has pioneered a new way to serve the market every five years on average!

Reinventors are guided by two imperatives: serve customers better and ensure sustainable profits.
As they innovate, inventors are obsessed with two things:
– Gaining precise knowledge of customer priorities and inventing new ways to respond to these needs better than the competition;
– Developing ways to protect the flow of profit.

Benefit from the methodology drawn from the experience of these value creators.
Twelve questions will help you redefine the four components that are key to a successful market approach: Customer selection, Value capture, Strategic control, and Scope.
Synopsis n.60a
---