We cannot solve our problems with the same thinking we used when we created them.Albert Einstein

Help your employees change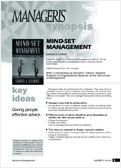 How to help employees challenge attitudes or behavior which may be holding them back?
subscribers, sign in to download the synopsis
---

Managers today are confronted with a challenge. They must learn to relinquish control in order to empower their employees. At the same time, they remain accountable for results and must therefore continue to exert influence over people. How can a manager lead people without controlling them?

Managers must lead by giving advice.
Giving advice is a way to influence people without controlling them. An advice-giving approach fosters people's motivation and creativity more than command and control.

Different forms of advice should be given depending on whether the other person needs to:
– Change his practices;
– Change his mindset.
Learn to distinguish between these two situations.

Two steps are required to change a person's mindset:
– Understand the person's existing mindset by asking questions and listening to the answers;
– Trigger a breakthrough by pointing out the pitfalls of the person's existing mindset.
Synopsis n.44b
---
subscribers, sign in to download the synopsis