We must take change by the hand or rest assuredly, change will take us by the throat.Winston Churchill

Get people reengaged after restructuring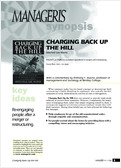 How to mobilize people after a merger or restructuring? Although the psychological shock is inevitable, leaders have ways to help people turn the page.
subscribers, sign in to download the synopsis
---

What company today has not faced a merger or downsizing? Such restructuring is highly disturbing for employees, who typically manifest symptoms of stress, demoralization and loss of trust in management.

"Charging Back Up the Hill" does not pretend to provide ready-made solutions to prevent these symptoms. However, it emphasizes the importance of managing them, rather than simply resigning oneself to them. It consequently suggests several ways to boost employee morale after a difficult transition. Among these helpful tips, we have selected the following key messages

– Help employees let go of the old organizational order, through empathy and communication.

– Set people excited about the future by providing them with a compelling vision and encouraging initiative.
Synopsis n.119a
---
subscribers, sign in to download the synopsis