We must take change by the hand or rest assuredly, change will take us by the throat.Winston Churchill

Gemba Kaizen and continuous improvement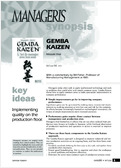 How to use the Japanese "kaizen" approach to implement continuous quality improvement on the production line?
---
EN SAVOIR +


Managers today often seek to apply sophisticated technology and tools to problems they could solve with simple common sense. Gemba Kaizen shows how to apply common sense to make spectacular improvements in company performance.

Simple improvements go far in improving company performance.
Significant gains can be generated by making many incremental improvements to working processes at very low cost and risk for the company. As efforts become increasingly focused on technological innovation, the virtues of simple improvements merit renewed attention.

Performance gains require closer contact between management and production sites.
Managers find themselves in offices that are too often isolated from production sites, known as Gemba in Japanese, while firsthand observation of production machines and operators in action is essential to improve processes.

There are three basic components to the Gemba Kaizen approach.
The Gemba Kaizen approach is designed to improve industrial and service production activities on an ongoing basis, and has three basic components:
– Establish standards defining the best way to do a job, and update thes standards when necessary;
– Ensure good housekeeping, that is, organize and clean the workspace to reveal problems and improve efficiency;
– Eliminate the seven most common types of production process waste.
Synopsis n.53b
---