Nothing is so contagious as example.La Rochefoucault

Find new growth avenues in saturated markets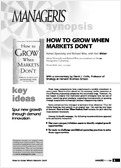 How to jump-start growth in a sluggish economy and saturated markets? Some companies have found an original solution by inventing new forms of demand.
subscribers, sign in to download the synopsis
---

Most large corporations have experienced a notable slowdown in recent years. Blame is often placed on the economy, market saturation or the difficulties of growing companies that are already large. However, the real reason is largely that traditional growth strategies have run out of steam. Launching great products, expanding internationally or growing through acquisitions increasingly produce disappointing results.

Some companies have managed to surmount these obstacles. They did this by boosting their growth in an original way – by creating new types of demand. "How to Grow When Markets Don't" retraces the path taken by these demand innovators.

Among the book's messages, the following recommendations appeared to be particularly instructive:

– Use your company's hidden assets to identify original growth opportunities.

– Be ready to challenge established operating practices to seize these opportunities.
Synopsis n.116a
---
subscribers, sign in to download the synopsis