The two most important things in any company do not appear in its balance sheet: its reputation and its people.Henry Ford

Expand the leadership pool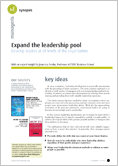 Why focus leadership training tools exclusively on the limited circle of future leaders? Another approach would be to train a wider group of potential leaders.
---

At most companies, leadership development is practically synonymous with the grooming of future executives. The most common approach is to identify a small number of managers with a promising background and personality, in order to accelerate their development by offering them specific training and providing them with valuable leadership experience.

This elitist concept has now reached its limits. In companies where employees are expected to be autonomous and take initiative, more and more people must demonstrate leadership ability. With the fast-approaching retirement of the post-war generation, experienced leaders are going to become an increasingly scarce commodity.

In this context, leadership development can no longer be reserved for a handpicked happy few. It must be expanded to include a broader public, in order to develop the skills of the greatest possible number of managers who show abilities in this arena.

The publications that we have selected provide some valuable suggestions on how to attain this objective. In particular, three messages appear essential to us:

– Precisely define the skills that you expect of your future leaders.

– Actively search for individuals who show leadership abilities, regardless of their profile and past experience.

– Adapt your leadership development methods to address as many people as possible.
Synopsis n.142a
---