The two most important things in any company do not appear in its balance sheet: its reputation and its people.Henry Ford

Create value by playing on cultural differences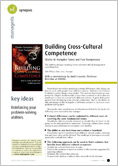 How to reinforce your problem-solving ability? Integrating the viewpoint of diametrically opposed cultures can help managers come up with more value-added solutions.
subscribers, sign in to download the synopsis
---
EN SAVOIR +
¬ Managing a multicultural team
¬ Strengthen your intercultural skills


Most books devoted to analyzing cultural differences offer advice on how to work with people from different cultures. "Building Cross-Cultural Competence" pushes things a step further. The authors' hypotheses are supported by a highly detailed study of over forty countries to show that it is insufficient to learn to coexist with different cultures. A great deal can be gained from developing cross-cultural competence, that is, the ability to take advantage of the strengths of different cultures to reinforce one's problem-solving skills.

Among the many useful pieces of information offered by the book, the following seem essential to any manager:

• Cultural differences can be explained by different ways of resolving the same fundamental issues.
Should the rules be strictly observed or should they be bent? Is the group or the individual more important? Opposing cultures have simply chosen to give preference to one aspect over another.

• The ability to step back from one's culture is beneficial.
If problems can be considered from different cultural angles, solutions that add more value can be devised. The challenge is learning to reconcile apparently contradictory values.

• The following approach can be used to find a solution that benefits from different cultural viewpoints:
– Identify the cultural dimensions at stake;
– Position the situation in question relative to the extremes suggested by opposing cultures;
– Eliminate the compromise solution;
– Progressively develop a solution that reconciles both extremes.
Synopsis n.95a
---
subscribers, sign in to download the synopsis