Management is nothing more than motivating other people. Lee Iacocca

Coopetition, between cooperation and competition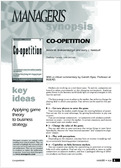 New competitive strategy approaches have been developed by applying game theory to corporate strategy . Some interesting leads to explore?
subscribers, sign in to download the synopsis
---

Markets are evolving at a ever-faster pace. To survive, companies are forced to adapt continuously to this changing environment. Applying game theory to the business world sheds light on original strategies in this race for survival.

The best strategy is not to adapt to the market, but rather to change the playing field in which you operate. Four drivers can be used for this pupose:

• 1 – Get new players to enter the game.
Your entering the market could change the existing balance of power. You can use this to your advantage, by getting beneficiaries to pay you to enter.
You can encourage competitors – or companies with products complementary to yours – to enter the market. In certain situations, such moves can expand your own market reach.

• 2 – Change the rules of the game.
You can add rules to your contracts that swing things in your favor. Specifically, discover the "most favored customer" and "competitive alignment" clauses.

• 3 – Play with perceptions.
Depending on the situation, you may have an interest in masking reality or conversely fostering greater transparency.

• 4 – Capitalize on links between markets.
You can expand your market by capitalizing on potential or existing links with other markets. Find out why it is preferable at times to tackle competitors on adjacent markets, and how a packaged offering of different products can boost your own profits.
Synopsis n.42a
---
subscribers, sign in to download the synopsis