Progress comes from the intelligent use of experience. Elbert Hubbard

Control your emotions to make them an asset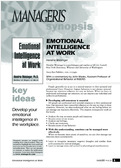 How to understand and manage your emotions to capitalize fully on their power rather than be penalized by them.
---

People generally try to act in a rational manner in their personal and professional lives. However, human behavior is not always rational, because our emotions influence the way we behave. When we learn to understand and manage our emotions, we can improve our individual and collective performance.

Developing self-awareness is essential.
All people are confronted with stressful situations in their professional lives. Our emotions have a powerful influence on the way we react in these situations. However, we must understand what we are feeling before we can manage our reactions effectively. This requires introspective work on five levels:
– Analyze the way we assess people and situations;
– Become aware of our senses;
– Analyze our feelings;
– Clarify our intentions;
– Become aware of our behavior.

With this understanding, emotions can be managed more effectively.
When we become more aware of ourselves, we can then manage our emotions more constructively:
– Learn to recognize automatic negative thoughts and combat them with constructive internal dialogue;
– Learn to manage stress and control its physiological manifestations.
Synopsis n.61b
---