Genius is one percent inspiration and ninety-nine percent perspiration.Thomas Edison

Communicate clearly with others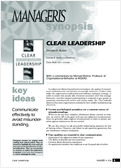 Communicate clearly with your surroundings is an essential driver to the quality of interpersonal relationships. How to communicate effectively to avoid misunderstandings?
---
EN SAVOIR +
¬ Conversation, an essential leadership tool
¬ Co-design: Knowing how to dialogue


In today's ever-flatter hierarchical environment, the quality of interpersonal communication has become increasingly important. Leaders must make the organization understand and embrace company strategy, in order to ensure that people take initiatives consistent with that strategy. Moreover, excellent mutual understanding is required to get people to cooperate constructively within and across teams. Yet, "Clear Leadership" observes that most organizations commonly have trouble communicating effectively.

Certain psychological prejudices are a common source of misunderstandings.
When we do not have complete information about a person or situation, we tend to "fill in the gaps" with our own subjective interpretations. Now, we generally make negative interpretations in order to protect ourselves against situations we do not control.
We are also reticent to ask potentially embarrassing questions for fear of hurting others. However, our failure to ask questions guarantees that our information remains incomplete.

Four qualities are essential to clear communication:
– Awareness of the subjective nature of our experience.
– The ability to describe our own experience.
– Curiosity about alternative experiences.
– An appreciative mindset that enables us to see the good side of others.
Synopsis n.97a
---