If you think you are too small to make a difference, try sleeping with a mosquito.Dalai Lama

Beloved company, successful company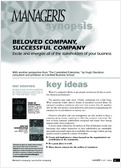 The success of a business appears to depend primarily on the existence of a shared mindset. What if enthusiasm were more effective than discipline in business success?
subscribers, sign in to download the synopsis
---

What if a company's ability to get people excited was the key to excellent financial performance?

The question may seem naïve. Clearly, enthusiasm isn't a bad thing. What corporate leader doesn't dream of customers excited about the company's products, employees who can't wait to give their all, suppliers who act like real partners, local authorities and citizens congratulating the company for its contribution to society, etc.?

However, discipline and cost management are also needed to keep a company going strong, requiring an effort by everyone concerned. But how to keep company stakeholders energized and ensure their lasting support under these conditions?

A recent study realized by the authors of Firms of Endearment reveals that businesses that endear themselves to their stakeholders are remarkably successful and actually much more profitable than average! Indeed, getting people excited is primarily a matter of mindset:

– Create and implement a vision focused on the organization's net contribution to the community.

– Be a great place to work.

– Show sincere concern for the welfare of customers.
Synopsis n.167a
---
subscribers, sign in to download the synopsis