Management is nothing more than motivating other people. Lee Iacocca

Resist the temptation of the short term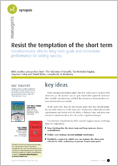 How to reconcile the need to produce immediate results and the need to prepare for the future? Resisting the temptation to focus on the short term is difficult, but beneficial in the long term.
---

Many managers and leaders admit that they tend to focus on short-term objectives, as the quickest way to gain shareholder approval, maximize their variable compensation, and feel the satisfaction of seeing their projects implemented successfully.

At the same time, they are also keenly aware that they should probably pay more attention to the long term. Studies have indeed shown that organizations and leaders with the ability to balance long- and short-term initiatives outperform those who do not by a significant margin.

Our selection of publications offers concrete suggestions on combining these two imperatives:

– Stop thinking that the short term and long term are always contradictory.

– Define your strategy around multiple timeframes.

– Establish a context in which you can manage the short term effectively while continuing to pursue longer-term goals.
Synopsis n.169a
---